Wisteria Place Newsletter November 2022
Posted on November 18th, 2022
We invite you to join us and Live Your Best Winter at an Optima Living community! If you haven't already, move in before winter so that as you experience both indoor and outdoor activities, your days will be filled with endless opportunities to make memories with friends and family. Click the button below for more information!
---
Have you seen the walking trails behind our park at Wisteria Place? They are the perfect place for a brisk winter walk—and you can bring your furry friends, too. When you come home to Wisteria Place, you'll be greeted with top-quality food, fun activities, and the warmth of friendship. What better way is there to live your best winter? Come for a tour. We can't wait to meet you.
Wisteria Place
4388 Garry St
Richmond, BC V7E 2V2
(604) 204-0910
wisteriaplace.ca
An OPTIMA LIVING Community
---

Holiday Season Sing-a-long Watch Party
Our annual Holiday Season Sing-a-long is coming to a device near you. On December 15th @ 1:30 PST 2:30 MTN, visit the Optima Living TV YouTube channel to join in on the fun! 
---

Optima Living TV Episode 3 - Your Space and You
Join the watch party livestream at the Optima Living TV Channel on December 2nd @ 1:30 PST 2:30 MTN.

Seniors' quality of life is impacted by their living environment. Deanna Cable, co-owner of A Step Up Inc, shares tips and tricks on furnishing your suite, decluttering your space, and making your space a home.
AHS Chair in Healthy Aging Dr. Wagg shares a health tip about how important keeping mobile is for health and wellbeing in later life. 

Watch the last episode, Maximize Your Golden Years, here.
---
Community Life Reflections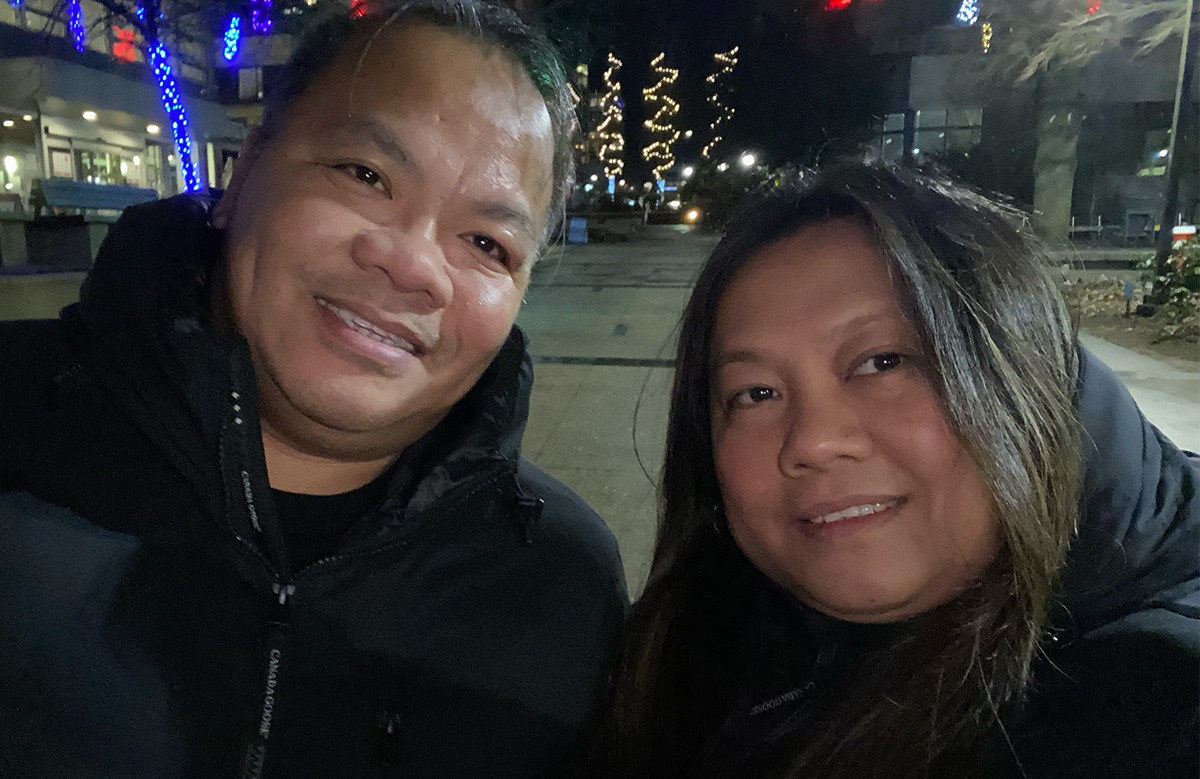 Portrait Corner
A Few Filipino Insights that came to my mind after interviewing Jonathan and Marian:

The truly happy Filipino smile. The soft Tagalog (Filipino) language with its repeat syllables (coming from its Malay roots): KariKari, IloIlo etc. Like sounds little children make and, because it is also often has English words mixed in, sounding very special  (The Philippines has two "official" languages, Tagalog (Filipino) and English. Filipinos generally speak both).

The small ground pigeon, beautiful and found only on the island of Luzon. It is called Bleeding Heart Dove because of the blood-red spot in the middle of the the chest.

Luzon, where the Malasigs are born, is one of over 7000 islands making up the Philippines. The name Luzon comes from an 1800s Tagalog word, "lusong", for the big mortar used to pound the rice. The word  makes even that heavy and ancient chore sound delicate!

And world famous boxing star Manny Pacquaio, now retired, fought in many different weight classes. They all sound "feather" light to me!

So much culture and history has shaped the Philippines since it was colonized by Spain in the 1500s, then handed over to the United States in the late 1800s and for the next 50 years ruled by either the US or Japan. In 1946, the Philippines became independent but was ruled from the 70s on by the dictator Ferdinand Marcos(whose wife Imelda was said to own the most shoes in the world!) until he fled to Hawaii in the late 1980s.
---
Deeper Insights from our very own journalist
Wisteria is in trusted and always friendly smiling hands with Marian and Jonathan Malasig managing Environmental Services. It is a big job to handle cleaning of floors and windows, stairs, elevators and entrances, making sure that security works, light fixtures and electronics are in order, and keeping an eye on the comings and goings around the parkade. And then there are the grounds needing water, weeding and sweeping. 

Don't forget garbage and recycling. And the water pipes and heating ducts and filters and air conditioners. Marian's Housekeeping includes the weekly room cleaning and bed making on three floors, also the carpeted hallways, and the offices and reception area and the dining room and all the offices on the main floor. 

Jonathan assists residents with their "journey" moving in, down to hanging the last picture. As long as he has time.

Filipinos are world famous for their devotion to caretaking jobs like this and for doing it with a genuine smile. Marian and Jonathan, both in their early forties, grew up on Luzon, close to downtown Manila, fell in love and married there and then, like so many others, left their overpopulated island and emigrated to somewhere promising a better future than the beautiful "Pearl of the Orient", as the Philippines is known, could offer.

Seeking employment, Filipinos generally had to leave their important family behind. And, after landing a job in the US, Saudi Arabia, UAE or Canada (where the main Filippino concentrations are in Toronto, Winnipeg and Vancouver), most of them sent money home regularly, to continue the support of elders and other families in the Philippines. Many never stopped this generous habit.

Taking care of our elders isn't just because they are our responsibility , but also because we treasure our elders, says Marian. The Philippines has a greater proportion of dependents to working-age people than other Asian countries, so it is almost ironic that Filipinos with their super strong culture of looking after their elders were forced to venture abroad, to care for another nation's pensioners. 

Jonathan left for Saudi Arabia in 2003 and made good money in the fast food delivery business. He returned home for their wedding in 2005 and they agreed that they wanted a better place where they could live together. Also, Canadians were welcoming and he had a sister in Richmond. He immigrated in 2011. Marian arrived in 2013, leaving teaching and an office job selling school supplies in Manila. Their first Canadian home was at Jonathan's sisters.

The Malasigs have a home in North Van. They enjoy driving to work together and spending the job day together. Jonathan loves his two fancy cars, a Toyota and a Honda. Both a shining bluebird blue!

So when their Wisteria day is done, the Malasigs leave, tired but still smiling, in a happy cloud of blue. Appreciation from the elders they now look after in Canada is all they want. And, perhaps for a treat? They agree on "Leche Flan", the typical Filipino dessert. Also, Marian mentions their one big dream, to one day visit Japan.

ann-charlotte berglund, wisteria, fall 2022.
---
Community Life Reflections
---
Mentioned by our MP Kelly Greene in the house!

Optima Living & Wisteria Place is in the finalist for Business Excellence Award, under the category of New Business of the Year 2022.
---
Cultural Days: We are celebrating Sweden on November 24th with our very own resident Anne Charlotte!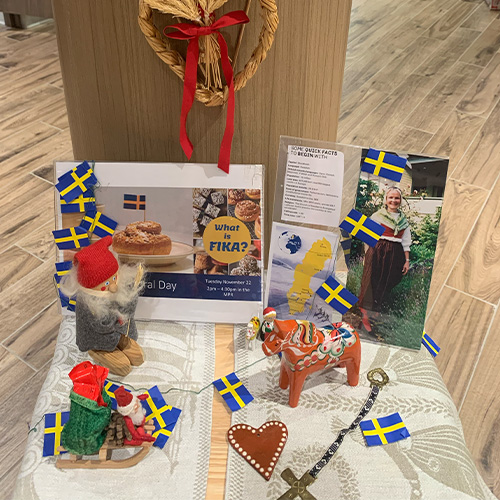 ---